adventures in personal leadership, story and play
Interactive and experiential workshops and programs that foster engagement, connection and creativity, while providing individuals and groups with experiences, tools, and resources to help you:
create a more powerful, compassionate voice, listening style and presence.
use play as a tool to embrace and effect change.
grow, change, or create a new story(s).
explore and enhance your creative voice and personal leadership style.
enhance or develop a story or play practice that fits your needs.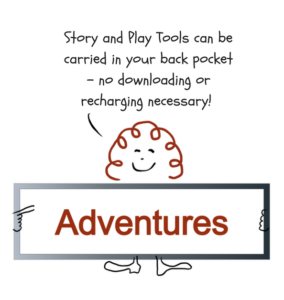 What is story work? play work? a story practice? a play practice?  Please click here!
Note:
Adventures are topic driven and may include one or more of the components above (or see particular offer for specifics).
Online Adventures coming soon.
Custom adventures available.
Story and play are tools for clearer communication, connection, creativity and personal growth.
services …
Individual strategy, consultation, and feedback sessions.
Custom designed adventures – workshops and programs – tailored for your specific needs.
Writing and editing.
Story work consultation and feedback.
Writing, oral storytelling, speaking – Subjects include personal leadership, personal story and storytelling, presence, play and related topics. Topics and storytelling programs are designed based on individual, group or organizational needs and may include fiction, non-fiction and process writing.
Inquiries about my services, work or availability may be made here.
FAQ can be found here.